/

Nearby

/

On the Lombardy side
On the Lombardy side
Desenzano and the Roman Villa
Situated on the southern shore of Lake Garda, Desenzano del Garda is a town full of picturesque corners, such as its Castle, the Porto Vecchio old port and Piazza Malvezzi.
Desenzano is located in an area that has been inhabited since prehistoric times and this is shown by the artefacts displayed in the Rambotti Museum and at the Lavagnone pile-dwelling site.
One of the most important places in Desenzano is undoubtedly the Villa Romana in the historic town centre, where you can admire exceptional mosaic floors.  The Roman Villa is managed by the same museum complex as the Scaligero Castle and the Grottoes of Catullus in Sirmione.
Salò
Salò, with its wide gulf and numerous monuments such as the Palazzo della Magnifica Patria, is the town of the violin and home to the MUSA, a museum that carries out important exhibitions.
Gardone Riviera
Gardone Riviera, a little further north, is where you can visit the Vittoriale degli Italiani built by the eccentric Italian poet Gabriele d'Annunzio, and the beautiful Heller Botanical Gardens.
Manerba and the Rocca
The Rocca di Manerba cliff overlooks Lake Garda, creating an observation point that, on clear days, enjoys a panoramic view from Sirmione to the upper end of the lake.
Today the hill is the heart of the Rocca di Manerba del Garda Archaeological Nature Park and has walking and cycling trails.
The nature reserve also includes an important archaeological site that can be visited on the tip of the Rocca and there are other places of interest in the surrounding area, which have provided finds from various eras and that are housed nearby in the Museo Civico Archeologico della Valtenesi.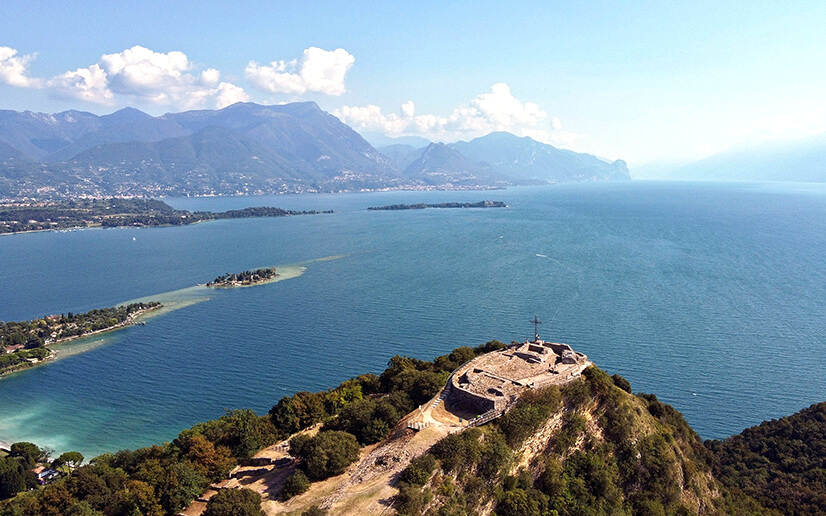 San Martino e Solferino
The towns of San Martino and Solferino lie in the moraine hills of Lake Garda and are linked by a date in history: on 24 June 1859, during the second Italian war of independence, battles took place in Solferino and San Martino between the allied French and Piedmont armies and the Austrian army.
Two towers, museums and a historical re-enactment of the battle of San Martino still bear witness to these events today. Solferino is also remembered as the place where Henry Dunant witnessed the aftermath of the battle and was consequently inspired to create the International Red Cross.