/

Sport in Sirmione
Sport in Sirmione
Along with cycling routes and all the activities that can be practiced on the beach and outdoors, Sirmione offers many other opportunities and sports facilities for a various range of disciplines.
Canoeing and SUP
If you like canoeing and SUP (Stand Up Paddling), or if you want to try these sports for the first time during your holiday on Lake Garda, you can do so from some of the beaches in Sirmione and enjoy the sport in the amazing scenery and water of Lake Garda.
In Sirmione you can find canoe or SUP rental services at the Lido delle Bionde, on Galeazzi beach and on the beach of the Lido di Lugana in front of Silk restaurant.
Golf
Sirmione and the lower end of  Lake Garda are excellent points of reference for golf enthusiasts who would like to spend a holiday enjoying their favourite sport.
The closest golf course to Sirmione is the 36-hole Chervò Golf Hotel & Resort San Vigilio in Pozzolengo, which is suitable for both professionals and amateurs. Further afield you can find the Golf Club Paradiso del Garda in Peschiera del Garda, the GardaGolf Country Club in Soiano del Lago, the Arzaga Golf Club in Calvagese della Riviera, the Golf Club Colombaro in Cunettone di Salò and the Golf Club Villafranca in Pozzomoretto, in the Custoza area.
These golf clubs can not only be easily reached using private transport, but some hotels also offer a shuttle bus service.
Boats
Sirmione and Lake Garda offer a scenario of opportunities and impressive discoveries for anyone who enjoys boats and water sports.
If you want to cruise around the lake in your own motorboat, there are private boat storage facilities and harbours to check out for available berths and moorings. Alternatively, you can rent a dinghy or motorboat. If you do not have a licence, you can hire a motorboat up to 40 hp.
Remember that it is forbidden to use motorboats in the Trentino part of the lake, north of the line that runs from the Corno di Reamol (Limone sul Garda) and the Galleria del Confine (Malcesine).
With a motorboat, sports such as water skiing and wakeboarding can be enjoyed on the lake, subject to local navigation regulations.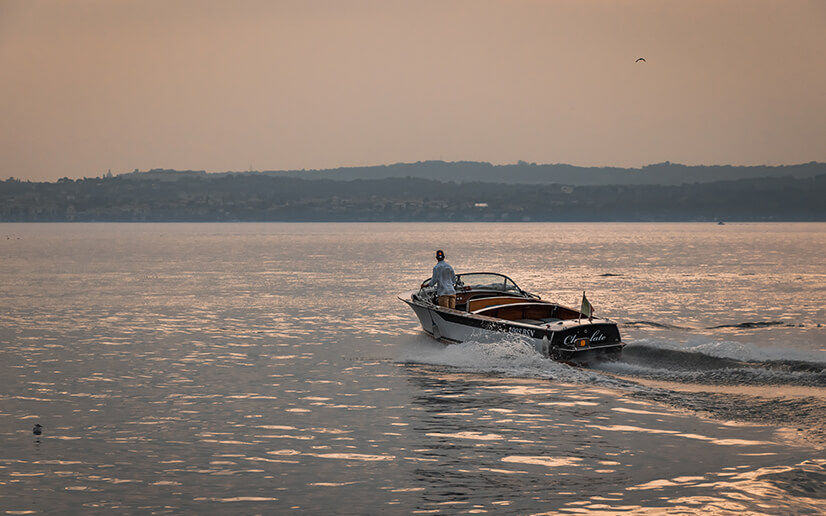 Sport Facilities
Within the territory you shall find the municipal swimming pool, soccer fields, tennis court sas well as a basketball and a volleyball ones and a mini-golf course: you can consult the map below to learn more.