/

Davide Greco is the first "resident photographer" in Sirmione
Davide Greco is the first "resident photographer" in Sirmione
His Parcours project chosen among the 99 presented at the Sirmione Photo Residency
WEDNESDAY 25TH MAY 2022
Davide Greco will be the protagonist of the first edition of the Sirmione Photo Residency.
The project with which the photographer convinced the jury is called Parcours and was carried out in France, in Clermont-de-l'Oise, in 2021.
Davide Greco is already working with Andréa Holzherr and Ludovica Pellegatta of Magnum Photos to develop a new photographic project that will be realized in Sirmione in the first half of October 2022.
Parcours is a project developed in the context of a two weeks artist residency in Clermont-de-l'Oise organized by Diaphane photography center. My artist-in-residence work was inspired by my personal research on a particular form of disorientation called "spatial cognitive deskilling": as we grow more and more dependent on cognitive artifacts like digital maps, we lose our ability to orient ourselves in unexplored environments. We become what the Japanese call "hōkō onchi", literally "deaf to direction". When the algorithms will be enough evolved, will we still trust our senses?
Visiting an unfamiliar place such as the small town of Clermont was the opportunity to discover the surroundings by adopting an unconventional tool: its people. Thanks to them, I was able to create an itinerary of Clermont from the direct experiences of its inhabitants, where each successive step was the result of a previous encounter.
Starting from my first local contacts, I asked the participants to think of a site where they wanted to be photographed, within the city limits. It could be a special place linked to a memory or emotion, whether public or private. Each participant then had the possibility to involve other people to be photographed, allowing me to continue or not along their path. The inhabitants of Clermont were thus photographic subjects and creators of a collective map.
During my stay I also explored the city without a precise route. I let myself be seduced by my disorientation in order to distill images that could fill the lack of a personal imaginary about Clermont.
The collection of portraits of inhabitants and details photographed during my wanderings compose a map of Clermont in which the loss of orientation is compensated for by the beauty of an encounter.
The creation of a map of Clermont is also a tribute to the Cassini dynasty of cartographers and astronomers, who moved to France from Italy in the 17th century and to whom the city of Clermont named a high school, a street and dedicated a monument: the bust of César-François Cassini. His first map of France, completed by his son, provided the most accurate representation of the country and took more than fifty years to complete
The Parcours series will be exhibited at Photaumnales 2022 festival in Clermont-de-l'Oise.
Born in 1982, Davide Greco is an Italian freelance documentary photographer based in Turin. His stories often explore identity construction processes, collective imageries and boundary territories. These evolving scenarios reflect his personal life path: prior to photography, in 2009 he graduated in Aerospace Engineering at the Polytechnic University of Turin. From 2010 to 2014 he lived among Brussels, Turin and Geneva, working mainly in academia. Back in Italy he completely devoted himself to photography. In 2015 he attended the Luz Academy school of photojournalism in Milan. Since 2019 he is contributor at Parallelozero agency. Besides his personal projects, he works on editorial and corporate assignments with a narrative approach sensitive to humans and their personal story. He has worked and collaborated among others with Internazionale, la Repubblica, Vanity Fair, Fondazione Edoardo Garrone, Chora Media, Altraeconomia, Slow Food, HarperCollins. He recently has been awarded with the Sirmione Photo Residency (2022), the Head On Landscape Award (2020), the European Residence Award (2019), the Italy Photo Award (2019), a STEP grant by European Cultural Foundation (2019), the BYOPaper! Exhibition at Les Rencontres d'Arles (2018)
All the photographic competitions of the Sirmione Award for photography
In the gallery a selection of images from the Parcours project, below are the complete captions with the descriptions of the photographs.
---
Lionel Ollivier, mayor of Clermont de l'Oise, stands in the drawing room of the former College Fernel, where he attended his first school years. The building was decommissioned in 2003 and handed over free of charge to the Community of Municipalities. "I became president of the Community of Municipalities in 2014 and I said to myself, what are we doing here? Let's make a media library, fab-labs, recreational and cultural activities, theatre, pottery workshops. We worked from 2014 to 2020 on this project, which was finally approved. We are renovating it with a cultural function. It reminds me of when I was a student, and not only that: participating in a project, looking for grants, funding, and making this place come back to life, because even though it is of course still an imaginary reality, it is not bad to have worked there".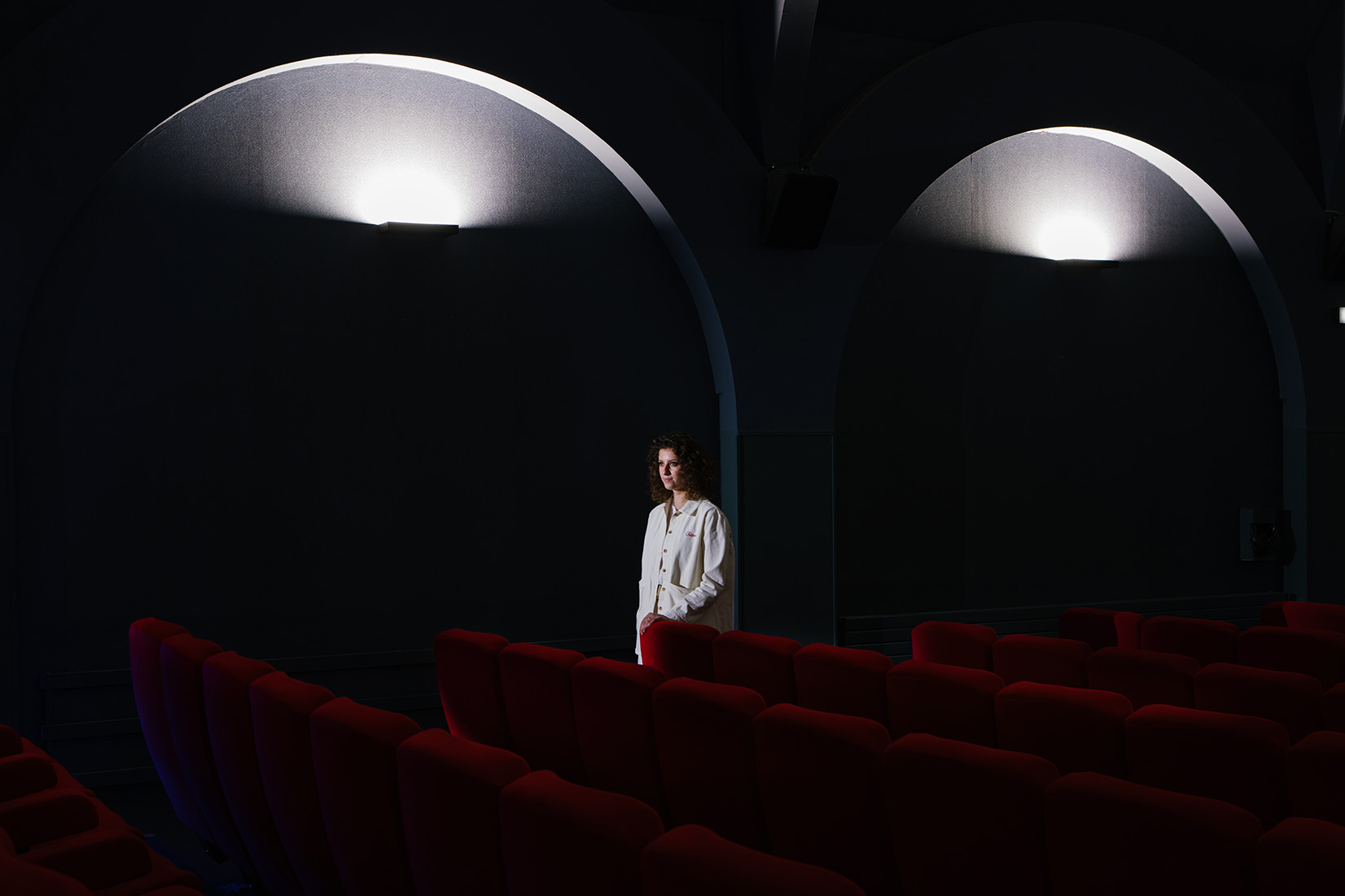 Léa David, by the cinema "Paul Lebrun" of Clermont. In 2019, Léa became director of the cinema, aged just 22. "I've been linked to this cinema since I was a child. I used to come here with my family and, later, also with friends. I built a large part of my film culture and my culture in general here. I love this place very much. When I was proposed to take over, I immediately said yes. For me it is a place full of history, full of important films. I have always been fascinated by cinema and it is this cinema that made me want to work in the field".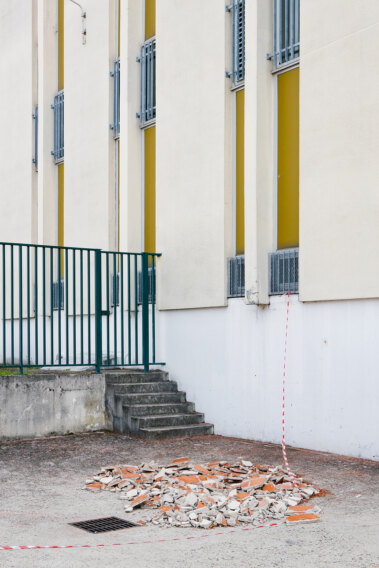 Ahmed Iskou, social worker at the municipality of Clermont, portrayed on the lawn in front of his house in Les Sables district. "What I like about this place is that you have the impression of being in people's living rooms. Do you see the windows around us? This is the living room of the houses around here and we are in the middle. We are outside, but at the same time we are in the living room, with the people. It's a sort of extension of these houses, but it's collective".
Aurore Merchez, by the former sports field of the Jeanne d'Arc secondary school: "Over there was the gymnasium of the school, which has now moved to Agnetz and here there's nothing left. The school was supposed to become a large car park and the sports field has completely disappeared. Today there is no physical trace of my secondary school years, because the school is no longer there. Those were also the only years I practiced sports, because after secondary school I had some health problems and I was exempt for the rest of my schooling. So the only years I did sports at school were here".
Guillaume Dussez, in front of the school Notre-Dame de la Providence . "I was born in Clermont. Clermont is my heart city. I did all my nursery and primary schooling there. In the mornings I was parked here with my mum, waiting for the guardian to come and open the door. My parents were divorced, but they both lived nearby. I have a lot of good memories here, there are friends who hang out at the video game shop where I work that I met here 30 years ago. Then, it's in the heart of the city'.
Claude Boulet, president of the Society of Archaeology and History of Clermont, at his home in Rue Général Pershing. The house contains numerous frescoes by his uncle, the painter Robert Boulet, who spent there most of his life, between 1933 and 1969. "My uncle decorated this house. He painted a lot, but he never pursued success. There are many religious subjects here and many family portraits. I love this house because there are a lot of old documents about the local history and the decorations that my uncle Robert did".
---